Solar Photovoltaic (PV) Panels – Rooftop, Recycle, Repeat
In the recent years, Vietnam has witnessed the "booming" of solar energy development in residential, commercial and industrial projects. While many people acknowledge the benefit of cost savings and environmental protection, many of them are still concerned about what will happen to the solar PV panels when these solar PV panels reach the end of their lifespan.
How long do solar PV panels last?
Generally, solar PV panels have a lifespan of about 25 to 30 years equivalent to the linear power output warranty period provided by worldwide Tier 1 manufacturers. A 2012 study conducted by the US National Renewable Energy Laboratory indicates that solar panels can last up to 30 years or longer if they are being operated and maintained correctly, while still producing a slightly reduced energy output.
Are solar PV panels recyclable?
A solar PV panel is considered "dead" only when it can no longer generate energy. GreenMatch, a green energy solution provider from UK indicates that, "While solar panel waste still falls under the general waste classification, the solar cells manufacturers are bound by law to fulfil specific legal requirements and recycling standards to make sure that solar panels do not become a burden to the environment."
So, can solar PV panels be recycled? Yes, they can. Most solar PV panels used in Vietnam are silicon type panels. Silicon (Si) solar PV panels are primarily composed of glass, plastic, and aluminum and these are three materials that are recycled in mass quantities. The glass is used to protect solar PV panel's surface, the plastic comes from the front and back side cover of the EVA (Ethyl Vinyl Acetate) sheet, to protect solar cell array connection and the aluminum is found at the frame of the solar PV panel.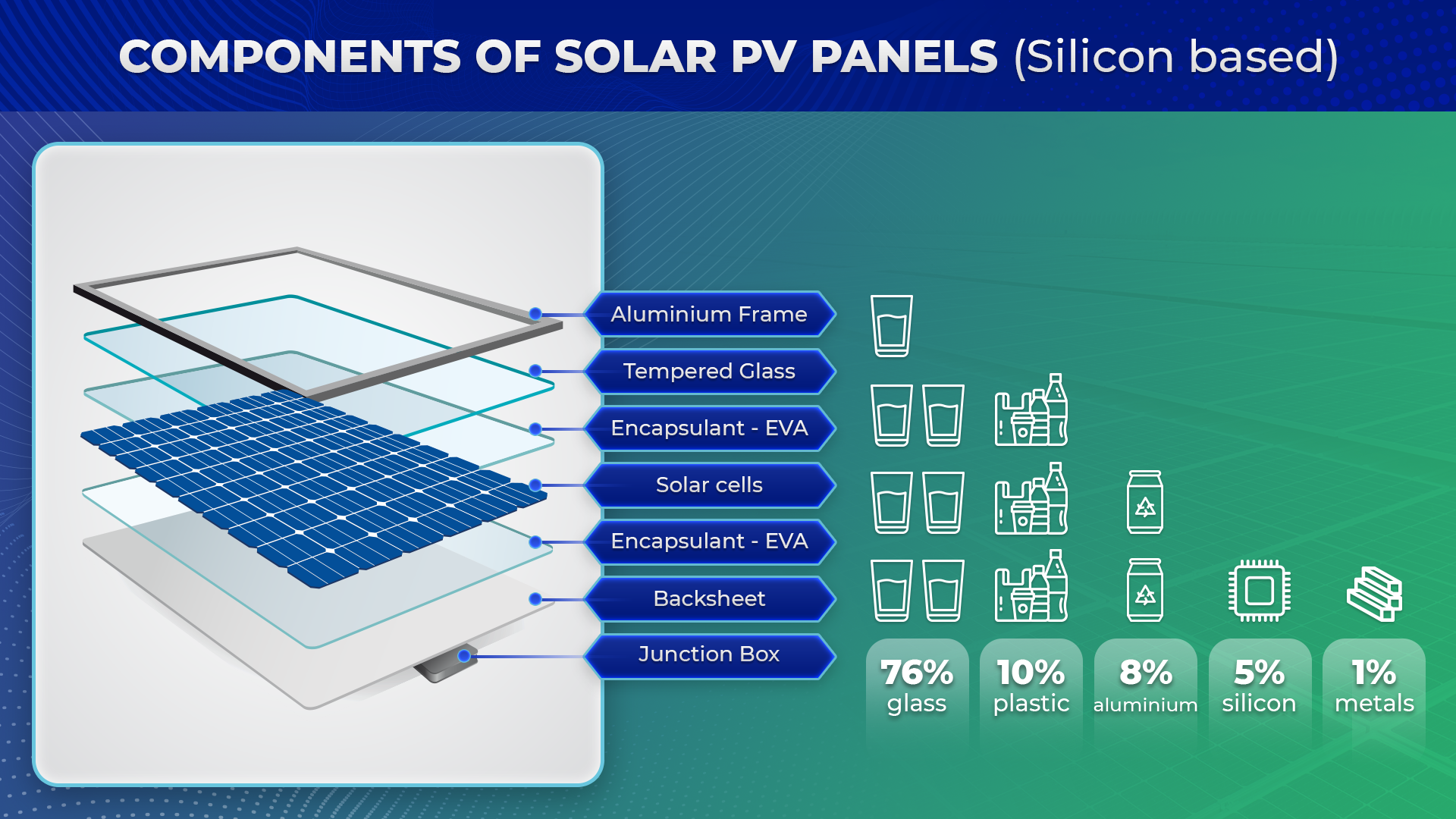 What is the solar PV panel recycling process?
According to CED Green Tech, a large electrical wholesalers and leading solar PV equipment distributor in North America, the main steps that involved to successfully recycling a silicon panel are:
Removing the aluminum frame, which is 100% reusable.
Separating the glass, which is 95% reusable.
Heat processing at a 500oC to evaporate small plastic components, allowing the solar PV cell to be easier separated.
Etching away the silicon wafer and smelting into reusable slabs, which is 85% reusable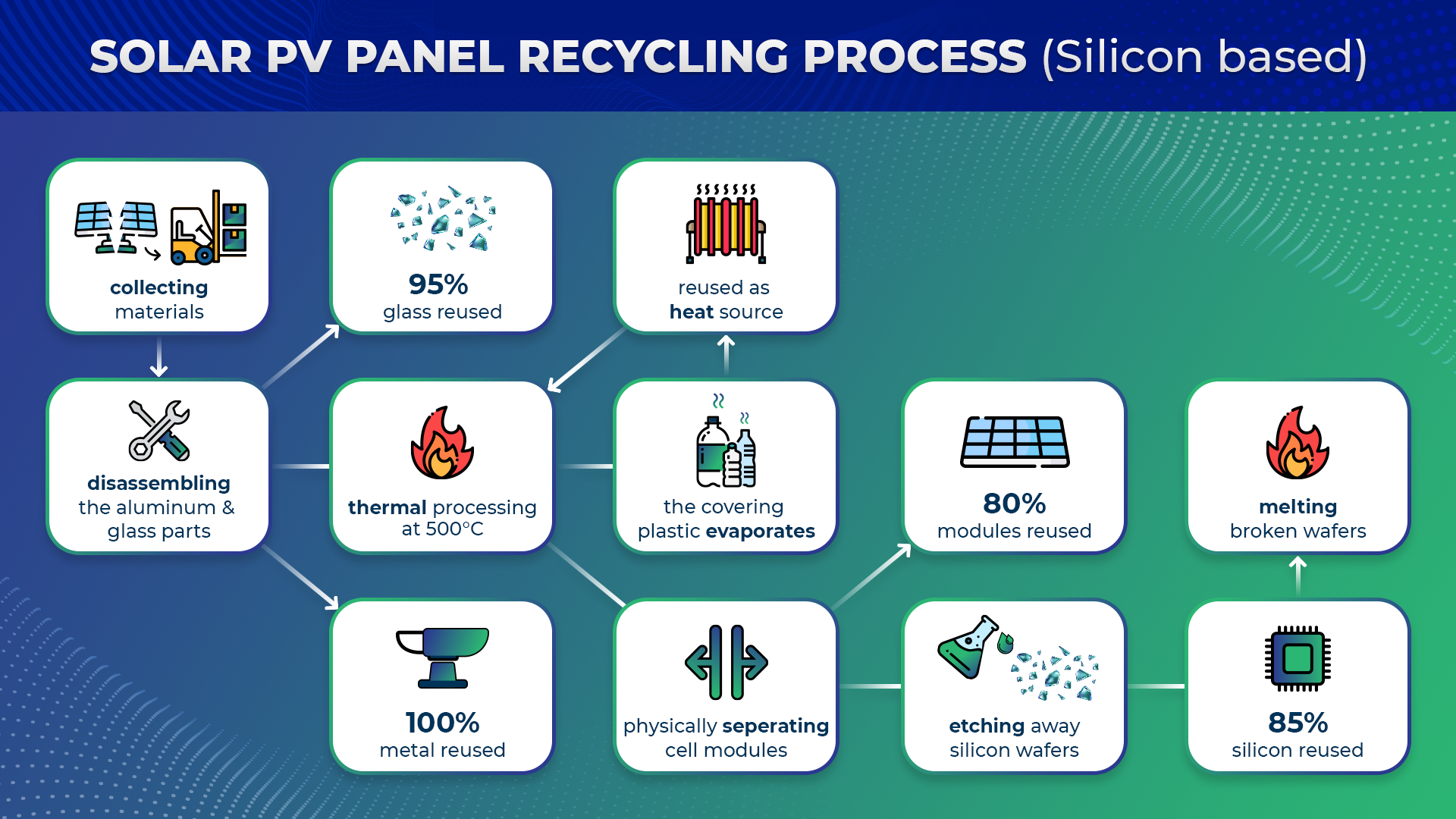 Even though the process recycling solar PV panels can require advanced machinery, its practice and technology are constantly developing. Research studies conducted on the topic of recycling solar PV panels have resulted in numerous technologies whereby some of them could improve the recycling efficiency to as high as 96%. However, many are still striving to raise the bar higher such that a recycling efficiency of close to 100% can be achieved in the future.
What has VSSES prepared for solar panel recycling?
As a solar developer, Vietnam – Singapore Smart Energy Solutions JSC (VSSES) is always committed to bring the highest quality of solar energy solution with the highest commercial values to its clients while protecting the environment
Being a joint venture between Sembcorp,  Becamex IDC and VSIP, VSSES inherits both experience and core value from its shareholders and in this case, it is the solar PV panel circular economy plan. Sembcorp, the major shareholder of VSSES, has announced its collaboration with Singapore Polytechnic on January 23rd, 2019, to commercialize a solar PV panel recycling facility in Singapore by 2023.
Presently, Sembcorp and Singapore Polytechnic is working together to develop a pilot recycling plant for the solar PV panels. The technology developed will be used to help recycle solar PV panels from Sembcorp's solar rooftop projects located at public housing blocks, schools, government sites, as well as private commercial and industrial facilities. (Source: The StraitsTimes)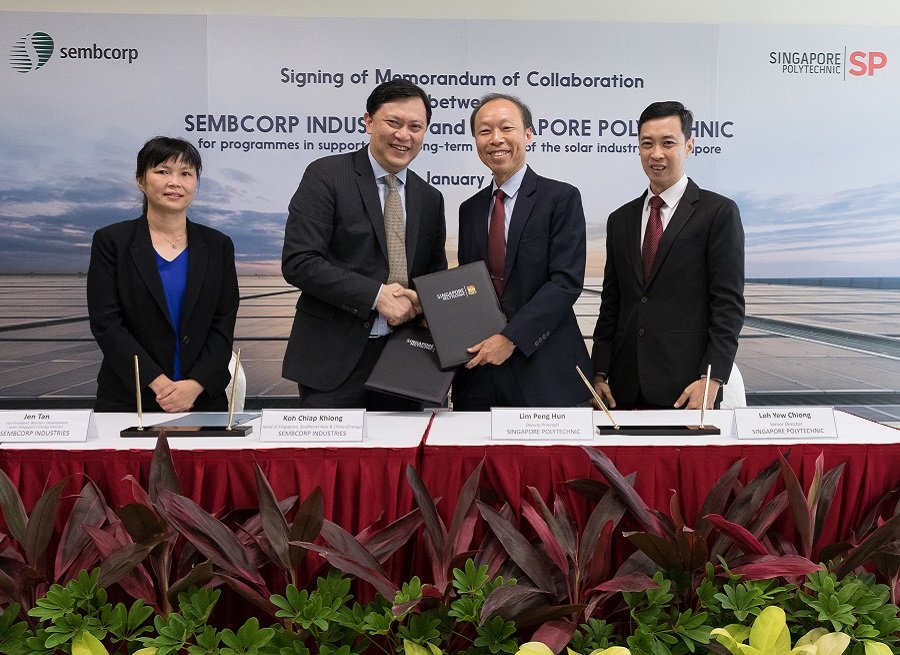 Despite the recycling technology for solar PV panel is still under research and will certainly require more time and effort to put into practice commercially, this initial preparation act is essential to ensure the long-term benefits from the use of solar energy as well as remove public's common belief that solar PV panel will be a toxic waste that causes harmful effect to the environment.
With these, VSSES's clients can enjoy the economic benefits from its rooftop solar PV solution for now and many years to come with an ease of mind that the solar PV panels are environmental friendly throughout their lifespan and beyond!
Author: Hai. L – Business Development Department – VSSES