Vietnam's Textile and Garment Industry: Going Green to Take Advantage of Export Opportunities to the EU Market
Experts state that EVFTA is not a 'red carpet'. The advantages of EVFTA are undeniable, but there's an essential condition to enjoying the beneficial tariffs: Vietnam textile exporters must fully meet the environmental standards and technical barriers of the EU market.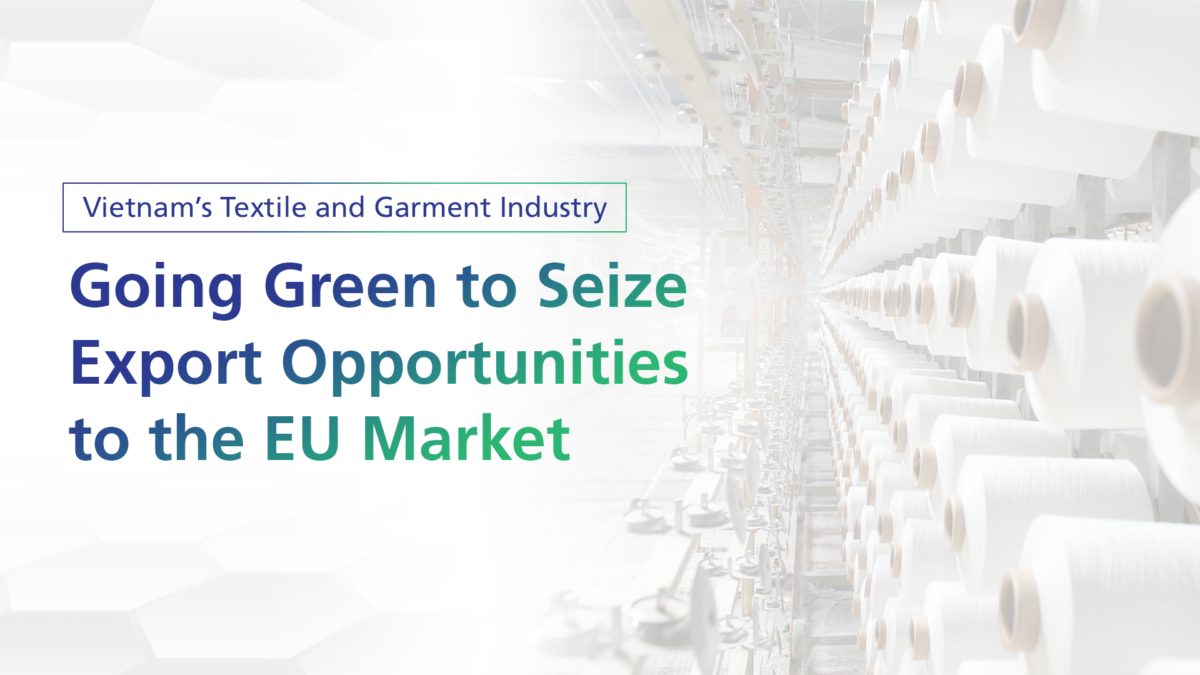 Stricter green requirements from EU will be put in place
With the EU-Vietnam Free Trade Agreement, the EU is a long-standing and important market for Vietnam's textile and footwear sectors (EVFTA).
In the first eight months of 2022, Vietnam's textile and garment industry has exported more than US$3 billion to the EU market. It is noteworthy that 26 out of 27 EU countries now import textiles and apparel from Vietnam. Whereas the markets of Belgium, Spain, and Italy are worth between US$200 and US$350 million, Germany has the highest share with close to US$800 million, the Netherlands with close to US$700 million, and France with close to US$500 million. Particularly, Vietnam's textile and apparel exports to Romania experienced a remarkable growth rate of 736%.
According to Viet Nam Garment Association (VITAS), the majority of firms in the global textile and apparel supply chain that work with well-known global brands today are required to adhere to green manufacturing standards, such as emission reduction and social and environmental responsibility. Vietnam's bilateral and multilateral FTA commitments also have regulations on environmental protection and low carbon emissions.
Particularly, in April 2022, The EU Strategy for Sustainable and Circular Textiles sets out the vision and concrete actions to ensure that by 2030 textile products placed on the EU market are long-lived and recyclable, made as much as possible of recycled fibers, free of hazardous substances and produced in respect of social rights and the environment.
The new strategy aims to tackle greenwashing, it emphasizes the transparent demonstration of concrete evidence showing that a green product is truly manufactured in a "green" way.
Why Practicing Greenwashing Is Not A Good Idea For Your Business?
Statistics from the EU show that 39% of supplier claims of green, sustainable products in the EU are unfounded or untrue. The EU wants to develop regulations to ensure consumers have accurate information about a product that is declared green, sustainable, and distinguishes it from other conventional products.
General environmental statements, such as "green", "environmentally friendly", and "good for the environment", will only be allowed if the manufacturer is recognized for excellence in environmental performance, especially based on EU E-Label, Class I e-label or based on third-party verification recognized by the competent authority.
In addition, carbon footprint measurement is seen as a way to demonstrate and communicate environmental claims. Rules for determining carbon footprints are expected to be introduced by the EU in 2024.
What can Vietnam textile exporters do to enhance their competitive capacity and better take advantage of EVFTA?
Experts state that EVFTA is not a 'red carpet'. The advantages of EVFTA are undeniable but there's an essential condition to enjoy the beneficial tariffs is that Vietnam textile exporters must fully meet the environmental standards and technical barriers of the EU market.
With the rooftop solar power solution, VSSES is proud to be able to accompany textile enterprises to respond to the green shift trend of the EU market as well as other fastidious markets such as the US and Japan.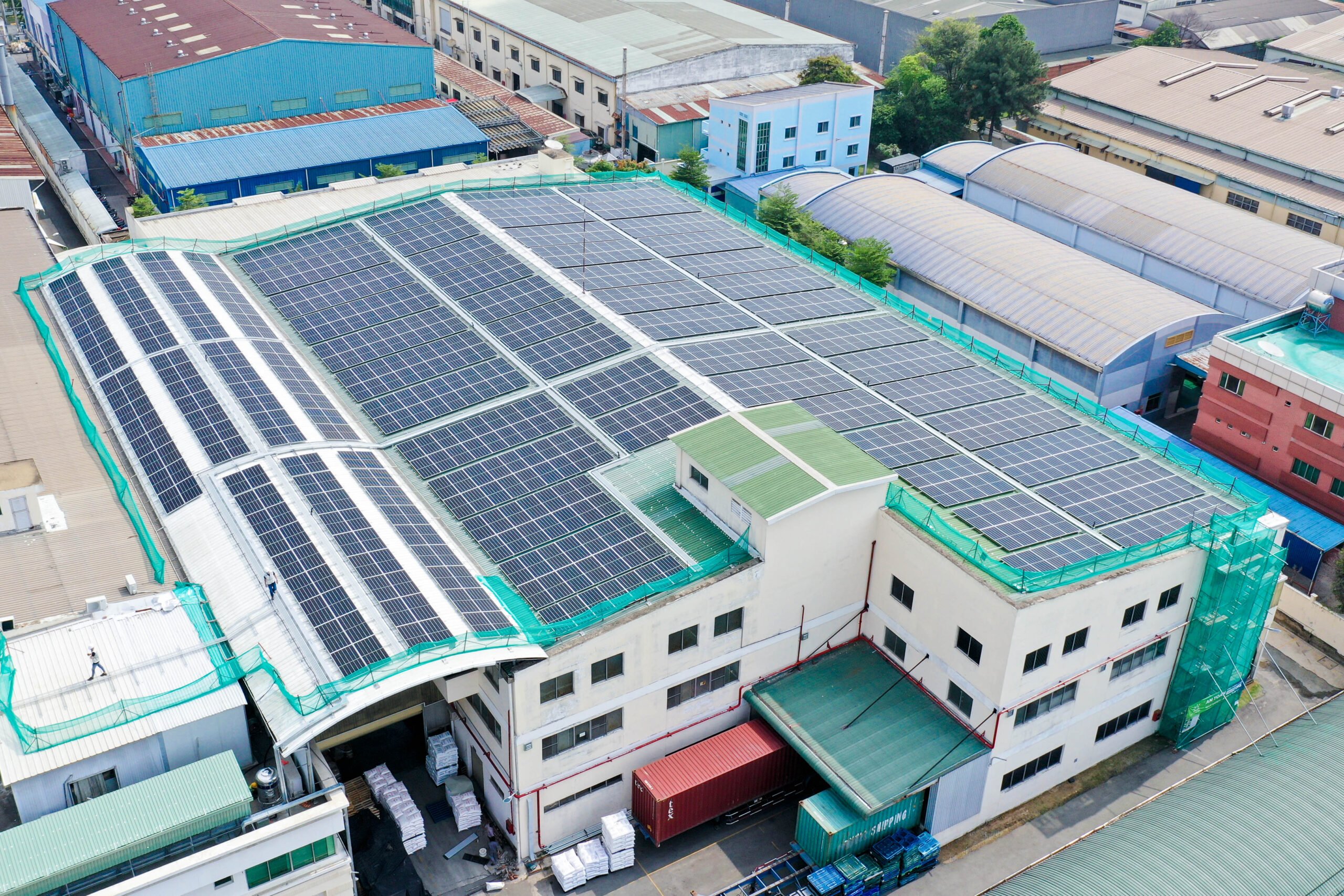 Solar energy is regarded as green because it uses a natural resource that can't run out and emit almost zero CO2s. The traditional energy sources of fossil fuels like coal, natural gas and crude oil, by comparison, produce massive amounts of carbon emissions and pollutants and contribute hugely to climate change, respiratory problems, and pollution.
Not only does solar energy brings such ease to our vulnerable atmosphere but it also gives businesses a way out of heavy electric bills.
Rooftop solar adoption can help businesses reduce their monthly electric bills. Through the partnership with an expert investor cum developer like VSSES you needn't spend any penny on upfront investment or operation & maintenance work while enjoying a lower charge for the consumed energy. For example, with a 1 MWp rooftop solar system invested by VSSES in 25 years of contract duration, your business can save up to 25 billion dongs.
Read more about PPA – a smart solution to enjoy green energy at zero investment
We have successfully carried out rooftop solar projects for well-known enterprises such as Alliance Print Technologies, part of New Toyo corporation (a leading manufacturer in packaging in Pacific – Asia region), II-VI (semiconductor component-focused manufacturer). 
Particularly, in October 2022, VSSES signed a Power Purchase Agreement with Regina Miracle International Vietnam to develop a rooftop solar project with a total installed capacity of 8.6 MWp. The adoption of rooftop solar will help Regina Miracle cut down on CO2 emissions by 11,000 tonnes annually, which will empower Regina Miracle to conquer another milestone in its sustainable journey.
Contact VSSES now to enjoy clean energy with zero upfront investment