The perks of going solar that your business cannot ignore
Emerging demand for green products combined with the rising national electricity tariff makes renewable energy adoption a hero for Vietnam enterprises.
Don't be left behind in the race toward sustainability
Businesses nowadays face greater pressure from purpose-driven consumers to cut down on their carbon footprints which negatively puts a toll on the environment. So that's why lots of companies across the world are seeking green solutions like going renewable so that they will not lose their customers to other competitors.
A study by IBM Institute for Business Value in 2021 reveals that 90% out of 14,000 people from 9 different countries stated that the Covid-19 pandemic has shifted their views on the environment and sustainability.  55% of respondents consider sustainability as a major factor in their shopping practice and 62% of consumers say they're willing to change their purchasing habits to reduce environmental impact.
At the same time, as part of the general goal of the Ministry of Industry and Trade's action plan to implement Vietnam's commitment to achieving net-zero carbon emissions by 2050, greenhouse gas emissions at energy-intensive manufacturing companies will be strictly controlled.
Therefore, switching to solar is a smart initiative that helps businesses worldwide align with modern consumer's expectations emerging from the crucible of COVID and the global energy transition trend.
Adopting rooftop solar is not simply a showcase of environmental protection
1. Save on Electricity Costs
The rooftop solar system generates electricity directly from the sun which does not pollute the environment or emit carbon dioxide. Not only does solar energy brings such ease to our vulnerable atmosphere but it also gives businesses a way out of heavy electric bills and a competitive edge to thrive in the marketplace.
The electricity price in Vietnam grows an average of 5% over the year from 2010 to 2020, and in the period from 2021 to 2022, it stays unchanged to encourage a bounce-back from the recession following the pandemic. However, EVN says there is a challenge to maintain this price level in the upcoming years due to the ongoing surge in input costs.
However, rooftop solar adoption can help businesses reduce their monthly electric bills by 30%. Especially, via the partnership with an expert investor cum developer like VSSES you needn't spend any penny on upfront investment or operation & maintenance work while enjoying a lower charge for the consumed energy. For example, with a 1 MWp rooftop solar system invested by VSSES in 25 years of contract duration, your business can save up to 25 billion dongs.
2. Enhance competitive capacity
With rooftop solar, your business can enhance the competitive capacity in the export markets, especially in EU and American countries. A lot of big corporations from these regions require partners in their supply chain to switch to renewables since they have committed to powering their whole operation systems with clean energy since their participation in RE100, led by the Climate Group and in partnership with CDP. This global corporate renewable energy initiative brings together hundreds of large and ambitious businesses committed to 100% renewable electricity.
More about why it is important for businesses to go 'renewable': It's time Vietnam manufacturers took sustainability more seriously
Why you should collaborate with VSSES for going solar
With our rooftop solar solutions, VSSES feels honored to bring businesses closer to green energy, which in turn helps them minimize the negative impact on the environment and gain a competitive advantage in the marketplace.
What makes VSSES win the trust of our partners:
Extensive industry experience inherited from Sembcorp and wide-ranging local resources inherited from Becamex and VSIP
Zero tolerance for accident/incident
Proactive system monitoring with digital technology
Premium equipment sourced from established Tier 1 suppliers: Jinko, Trina Solar, Longi Solar, Huawei, Fimer, SMA.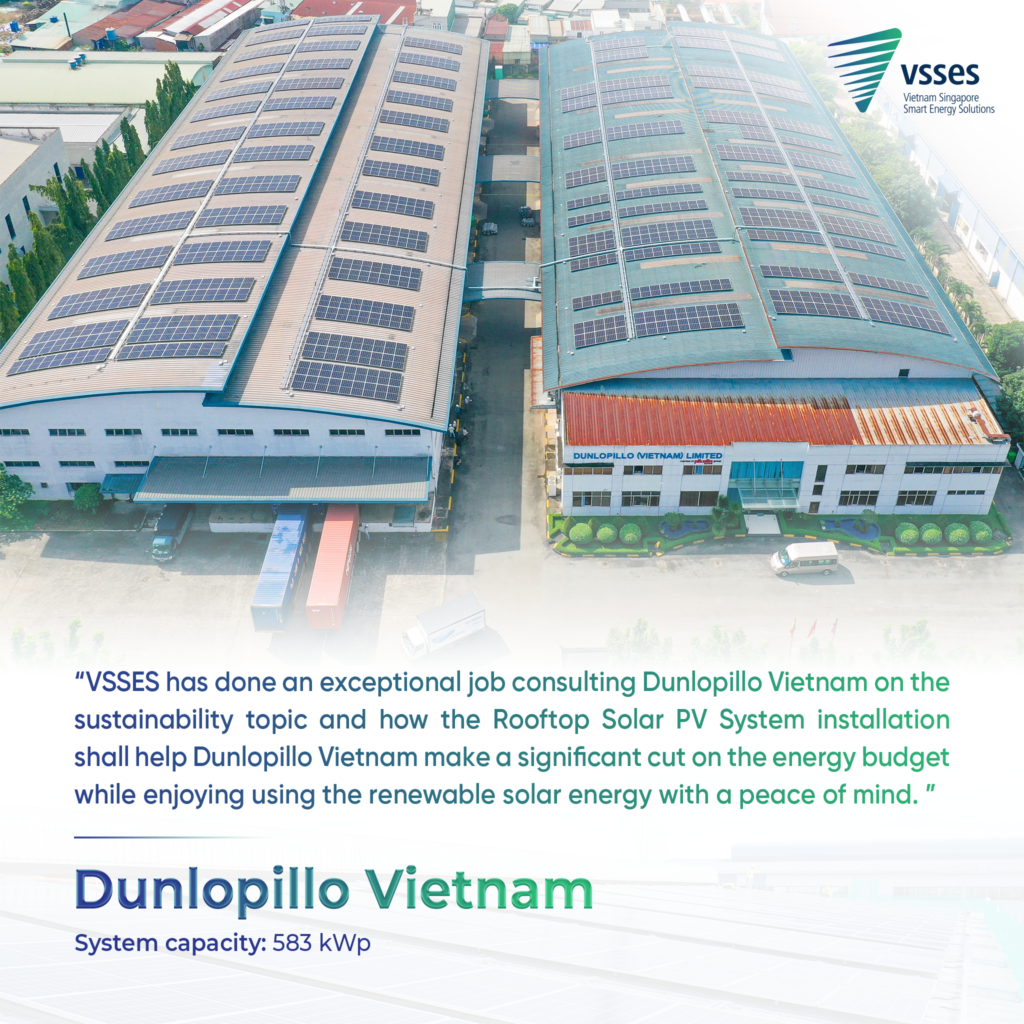 Thanks to the outstanding performance in service quality and occupational safety, VSSES was honored as the winner of two awards in the following categories Solar Energy Industry Leadership Awards and Solar Energy Innovation Excellence Award at The Solar Future Awards 2022, and the Innovative Sustainability Project of The Year Award at the Solar Future Awards 2021.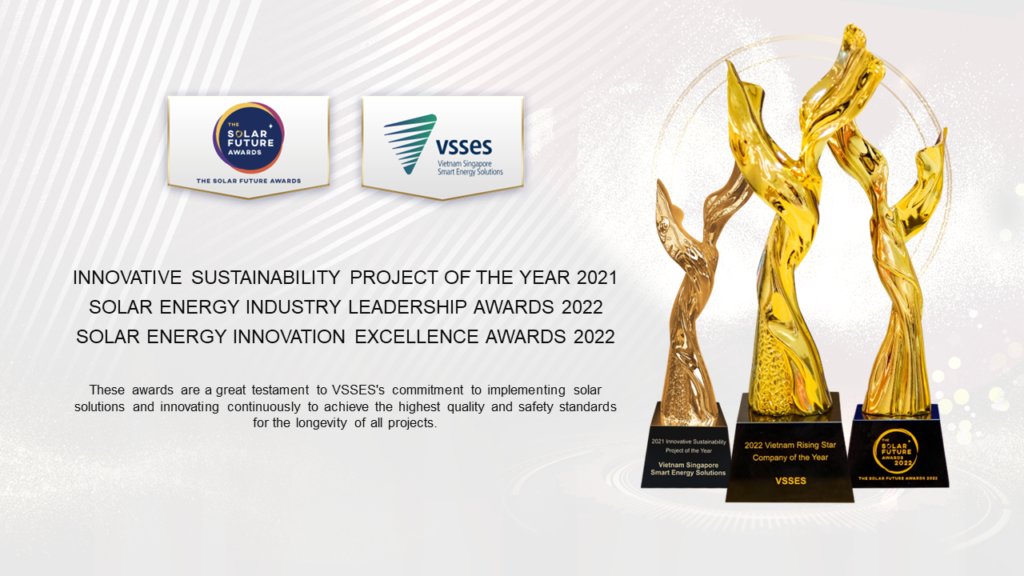 Three prestigious awards achieved by VSSES at The Solar Future Awards
Furthermore, through our Power Purchase Agreement solutions, beneficiaries can enjoy rooftop solar energy with no investment upfront. It is VSSES responsibility to install, operate and maintain the whole RTS system for more than 20 years of contract. In the meantime, partners only need to pay for their consumed amount of energy at a lower price compared to prevailing tariff.
With rooftop solar energy provided through PPA models, businesses will reduce their operating costs considerably each month.
More about PPA models – enjoy green energy with zero upfront investment
The Projects Developed By VSSES
Since our establishment, VSSES has successfully carried out rooftop solar projects for well-known companies such as Alliance Print Technologies (a micro business of New Toyo corporation, a leading manufacture in packaging in Pacific – Asia region), Alcamax Packaging Vietnam (a well-known paper and packaging company), Tuntex (garment & textlile company), LDC (company specialised in agricultural products), II-VI (semiconductor component-focused enterprise). See our full portfolio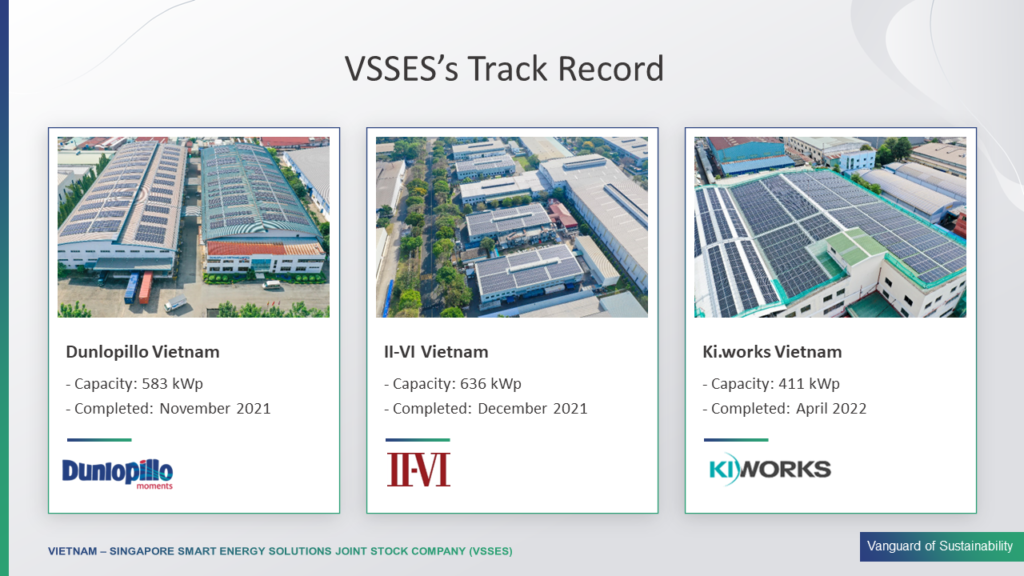 Contact VSSES now to enjoy clean energy with zero upfront investment