II-VI Vietnam: A sustainable journey starting with VSSES's Rooftop Solar System
In December 2021, the rooftop solar system at II-VI Vietnam was commissioned by Vietnam – Singapore Smart Energy Solutions (VSSES) successfully. With the system size of 636 kWp, this rooftop solar system generates 890 MWh of electricity each year. II-VI Vietnam is a subsidiary of II-VI Incorporated, a global leader in engineered materials and optoelectronic components […]
In December 2021, the rooftop solar system at II-VI Vietnam was commissioned by Vietnam – Singapore Smart Energy Solutions (VSSES) successfully. With the system size of 636 kWp, this rooftop solar system generates 890 MWh of electricity each year.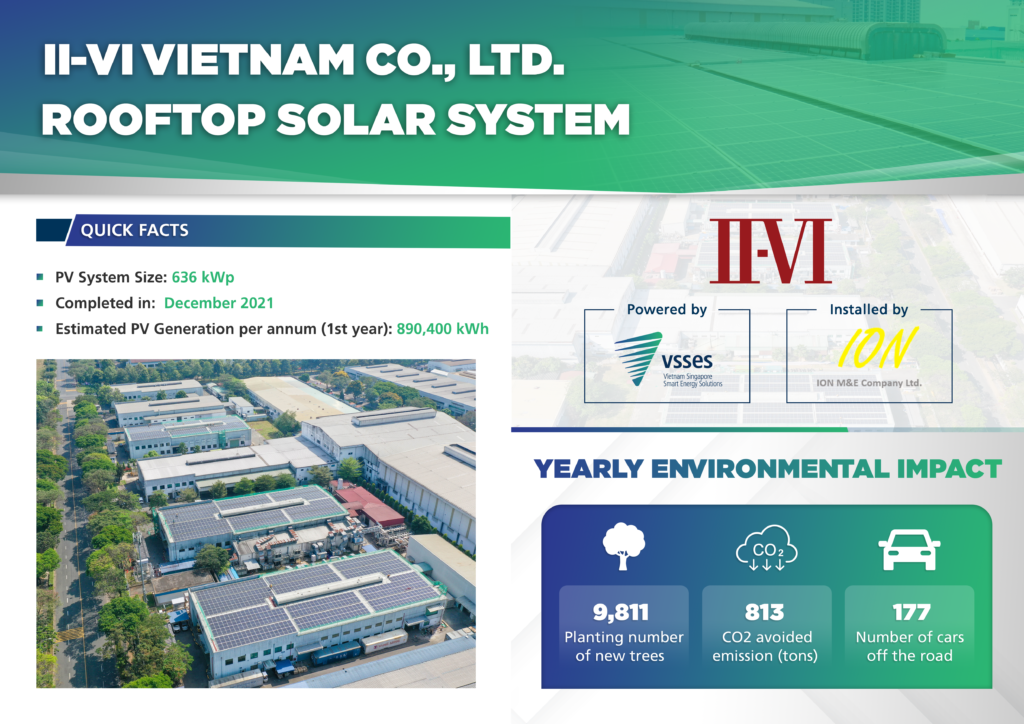 II-VI Vietnam is a subsidiary of II-VI Incorporated, a global leader in engineered materials and optoelectronic components for diversified applications in communications, industrial, aerospace & defense, semiconductor capital equipment, life sciences, consumer electronics, and automotive markets. It operates in 18 countries, has more than 22,000 employees worldwide and is celebrating its fiftieth anniversary this year.
As a company that not only supports but works towards long-term sustainability through tangible actions actively, II-VI has made reducing its carbon footprint across its global operations a top priority. It is powering all its facilities in Europe with 100% renewable electricity sources. II-VI also wants to grow the proportion of renewable energy supplied to its major manufacturing sites in Asia in the future and has demonstrated this through the installation of this rooftop solar system in the II-VI Vietnam.
Mr. Nguyen Tan Thanh, General Director of II-VI Vietnam said, "In line with II-VI Incorporated's sustainable strategy, II-VI Vietnam has collaborated with VSSES to power our manufacturing site with rooftop solar energy. Now, II-VI Vietnam is able to consume the green energy from our rooftops with zero financial outlay. The project was completed in less than 2 months without any safety breach. We really appreciate VSSES's efforts in making this project a success. We hope that II-VI can be a role model in the sustainability space and there will be more companies in VSIP switching to renewable energy soon."
The rooftop solar system at II-VI Vietnam reduces more than 812 tons of CO2 emissions annually which is equivalent to planting 9,811 new trees.
Mr. Andrew Toh, General Director of VSSES said, "It is backed by a high-tech digital platform that does real-time monitoring of the output of every single string of rooftop solar system installed at II-VI Vietnam. This platform provides enhanced visibility over the system performance and allows our operation and maintenance team to be deployed swiftly when needed – making the solar asset more robust and reliable."
VSSES is committed to provide greater value-added rooftop solar solutions to II-VI and other businesses across Vietnam. Let's switch to renewable energy and play your part in supporting Vietnam's target to reach net-zero carbon emission by 2050!