VSSES attended the HKBAV Webinar: Realizing Vietnam's Renewable Energy Promise
Vietnam is in the process of updating its power plan (No 8) which is currently being discussed at government level whilst at the same time engaging in a solar power boom and the taking off of wind power industry.
On 25 November 2020, the Hong Kong Business Association Vietnam (HKBAV) organized a Webinar: Realizing Vietnam's Renewable Energy Promise to discuss about past, present and future trends in Vietnam's renewable energy.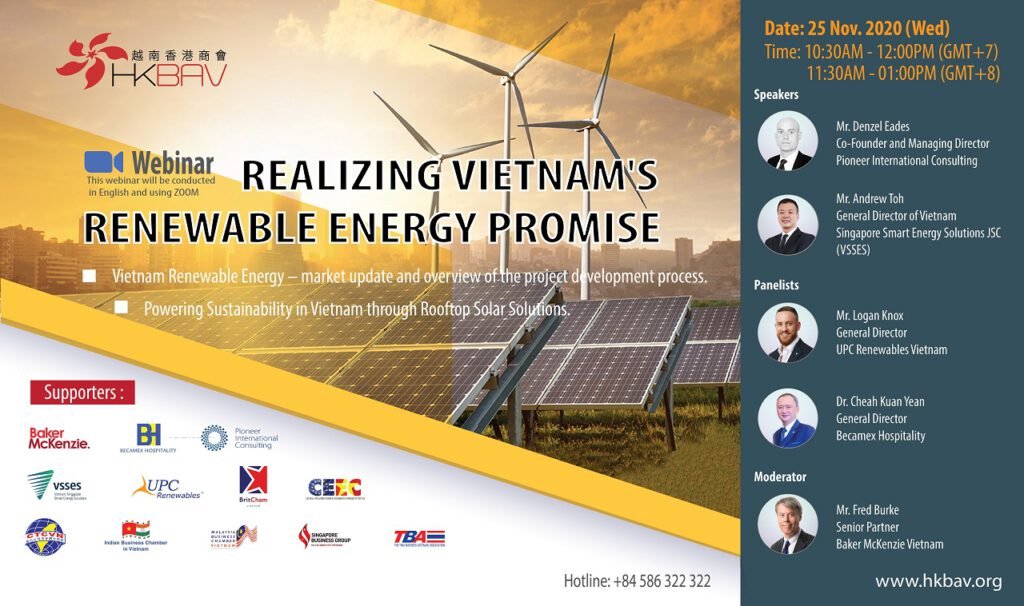 As a speaker at this webinar, Mr. Andrew Toh – General Director of VSSES, shared his knowledge on the topic of "Powering Sustainability in Vietnam through Rooftop Solar Solutions". Andrew brings with him more than twelve years of experience in the energy and utilities industry. He has a wealth of knowledge in company management, commercial structuring, business development, asset management and strategy development. He has also worked closely with multinational corporations and government and regulatory bodies in structuring deals and projects in Singapore, Southeast Asia and China.
Andrew has also held key managerial positions across Asia, which include the Deputy General Manager role to manage a joint venture unit in a full-fledged chemical industrial park in Shanghai. He is now CEO of Sembcorp Energy Vietnam Co., Ltd. and Vietnam – Singapore Smart Energy Solutions JSC (VSSES). In 2018, Andrew spearheaded Sembcorp's efforts to successfully expand its rooftop solar business into the residential space in Singapore by adding about 40 MWp of solar photovoltaic capacity to the company's renewables portfolio.
At this webinar, he talked about how rooftop solar works and how VSSES's solutions enable companies to enjoy savings on their electricity bills while contributing to a greener, more sustainable environment. He also shared that VSSES commenced the construction and installation of rooftop solar projects in Binh Duong Province, targeted for completion by end of the year. It also completed a 51 kilowatt-peak (kWp) rooftop solar installation atop the VSIP administrative building in Binh Duong Province in September 2019.
If you missed out, don't' worry. You can now access the full webinar recording: https://bit.ly/3727P0G or contact VSSES now at contactus@vsses.com for a free consultation on how rooftop solar implementation at your building can help you save money while protecting the environment.