Solar energy – Turns sunshine into savings
According to a 2019 report from VnExpress, the average retail price of electricity has increased 9 times from 2009 to 2018, with the record increment of more than 15% in 2011. This report indicates that the impact of the rising electricity cost can negatively affect the cost of production for business owners, purchasing price for consumer and ultimately slow down the growth of national GDP.
The Historical Rise of Electricity Cost in Vietnam 
Vietnam – Singapore Smart Energy Solutions JSC (VSSES) has also conducted a study on the change in EVN's electricity price for manufacturing customers over the last decade in Vietnam. This study indicates that the average price increment for Manufacturing customers is 5% year-on-year from 2010 to 2020.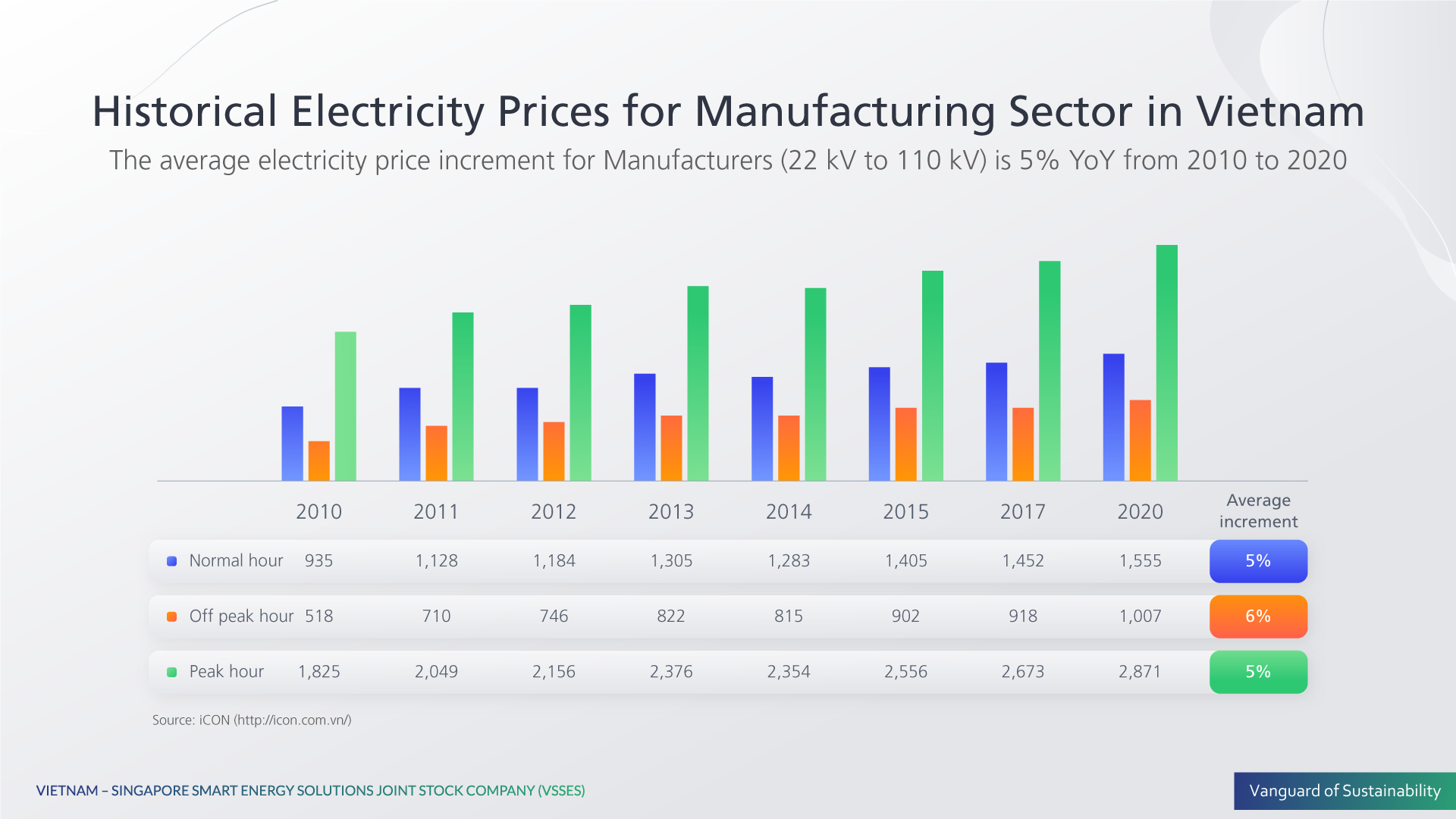 Use of EVN Electricity – The Cost of "Doing Nothing"
Is there such a thing? Yes, there is! In fact, the longer business owners choose not to take any action regarding their rising electricity payment, the more they will lose their hard-earned money. For example, if a business owner pays 100 million VND ($4,300 USD) per month for his electricity consumption,  this business owner will have to pay 1.2 billion VND ($52,000 USD) within the whole year of operation. By the 25th year, given EVN's electricity cost increases by 5% yearly as previously forecasted, he would have spent over 57 billion VND ($2.5 million USD) for electricity cumulatively which is a tremendous amount of money.
While this is merely an example, business owners who pay electricity for their Manufacturing tariff would admit their monthly payment is much larger than this which could even reach billions of VND monthly.
It is quite common for many business owners to neglect their electricity payment as they are already bombarded with works. Because of this, they fail to notice the rising cost of electricity. If EVN's yearly electricity increase is higher than the forecasted 5%, we can only expect the loss of money to be worse for business owners in Vietnam.
This is their wake-up call, and the time to act is now!
Buying Solar Energy – Earnings Come with a Price
The good news is that solar energy development is on the rise in Vietnam. Since 2018, solar energy development in Vietnam had been booming with thousands of C&I rooftop solar projects being installed and completed. Even with the lack of clarity of Feed-in-Tariff (FIT) 3 and the ongoing spread of COVID-19 in Vietnam, the growth of rooftop solar projects remains steady. This means that more and more business owners have recognized the financial benefits of solar and the importance to protect the environment.
Still, as popular as it gets, going solar is far from easy when business owners decide to take money out of their pockets and pay for it upfront.
Why? It is because of the high investment cost (CAPEX). Currently, the investment capital to own 1 MWp of solar energy system which generates approximately 1.4 million kWh of AC electricity is around 12 billion VND. This is a considerable large amount of money for most business owners. Theoretically, if a business owner uses 2 million kWh of electricity for production during the daytime and decided to spend around 12 billion VNDs to install a 1 MWp solar PV energy system on his or her factory, it can save up to 2.2 billion VND on the cost of electricity used per year. From there, it will take him over 5.5 years to reach the breakeven point (given the scenario where there is 80% of consumption while the remaining 20% of the energy generated will be exported to the grid).
As good as it sounds, it often will take between 6 to 8 years or even higher to breakeven realistically because of the following reasons:
With the solar PV energy system ownership, the business owner will have to spend money for operation and maintenance (O&M) to ensure energy is produced optimally. This O&M expense may change on a yearly basis subject to the cost of equipment, materials, and labor.
When the solar PV energy system exports the excess energy to the grid; the owner of the solar system is at risk of losing his or her money during the unforeseeable curtailment periods. Also, the FIT is having a downward trend and it will not be issued by the government in time to come. Because of this, business owners will not be able to make some revenues out of the exported energy and thus, the break-even point will take longer.
Power Purchase Agreement – Free Savings, Nice and Easy
Instead of investing money up front to own a solar energy system, with a Power Purchase Agreement (PPA), business owners will not require to spend anything to receive the benefits from this solar energy use now.
A PPA is issued by a Developer (Seller) who will own and be responsible for all costs of installation, operation, and maintenance for the solar PV energy system. In return, business owners (Customer) will consume the generated solar energy directly at a discounted price lower than their current electricity price. Depends on the business owner's solar energy consumption, the Developer can offer a suitable discount rate whereby both parties can benefit from.
For instance, if a Developer invests in a rooftop solar PV energy system with a capacity of 1 MWp and offers to a business owner who consumes entirely the solar energy generated at a rate that is 20% off the prevailing electricity tariff, the business owner would then need to pay 2.3 billion VND for the Developer instead of the original 2.7 billion VND for EVN.  In short, with a  PPA and for a solar PV energy system capacity of 1 MWp installed by a third party, a business owner would have saved approximately 350 million VNDs in the first year and 23 billion VNDs by the end of the 25th year. This is an impressive amount of savings, given that the business owner did not have to spend any capital or put in any effort to operate and maintain the solar PV energy system.
Despite being a smaller amount of savings as compared to if the business owner were to own a solar energy system, PPA ensures that there are no CAPEX, OPEX outlay and zero risks regarding the use of the solar energy system while guaranteeing the business owner a sizable monetary benefit from this system.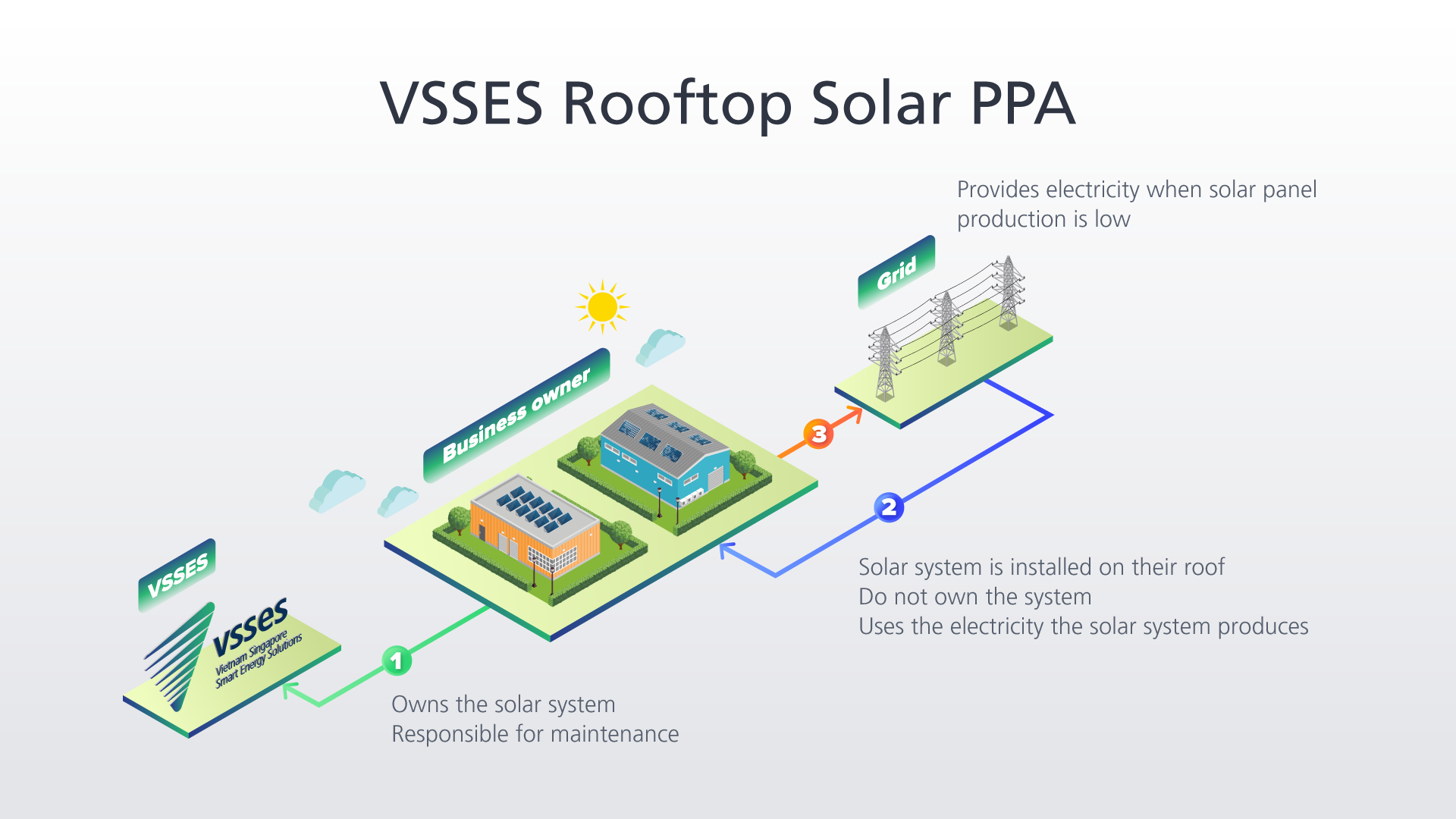 What Should Business Owners Consider?
Either owning a solar energy system upfront or choosing a profitable PPA offer, business owners need to consider their financial condition thoroughly and do a long-term calculation for the next 2 decades. If the decision is to buy and own a solar energy system, to shorten the break-even time, they must find a way to lower the initial investment capital while ensuring the solar energy system's quality to perform is at its best. Whereas with a PPA, the option will be much simpler as they only need to select the most competitive offer from the Developers in the market.
Being a joint venture between Sembcorp Singapore, Becamex IDC and VSIP, VSSES has inherited the international experience of rooftop solar project implementation for C&I customers and good local market knowledge to ensure that the solar energy solution is optimized and tailored to the needs of the customers. VSSES is committed to providing its customers the best solar energy solution that gives the most benefits, both as a Contractor or a Developer.