Green Cross Vietnam goes green with the rooftop solar system powered by VSSES
In May 2021, the Rooftop Solar System at Green Cross Vietnam was implemented by Vietnam – Singapore Smart Energy Solutions (VSSES) via the Zero Capex Model successfully. Using this solar energy, Green Cross Vietnam production is now greener and more environmentally friendly. Moreover, with this solar energy source installed before the recent outbreak of Covid-19 […]
In May 2021, the Rooftop Solar System at Green Cross Vietnam was implemented by Vietnam – Singapore Smart Energy Solutions (VSSES) via the Zero Capex Model successfully. Using this solar energy, Green Cross Vietnam production is now greener and more environmentally friendly. Moreover, with this solar energy source installed before the recent outbreak of Covid-19 pandemic in Vietnam, Green Cross is saving their electricity cost during this difficult period.
About Green Cross Vietnam
Established in 2005, Green Cross Vietnam has won the trust of millions of customers with a total of 60 successful brands. Their quality products range from health and hygiene, personal care, fabric to household care.
Green Cross Vietnam always aims for the "Superiority" in their works and their partnership buildings. For each product, Green Cross Vietnam has always committed to high standard of quality to satisfy each customer's requirement on daily life usage. With good products that come with attractive designs as well as the full understanding of each customer, Green Cross is on the successful path of serving the health and hygiene of many Vietnamese families.
With one of the values being "Continuous Improvement", Green Cross Vietnam has achieved its sustainability goal by solarizing their rooftop facility with the Rooftop Solar System which generates green energy for production and administrative usage. Now, the products of Green Cross Vietnam are "made by the Sun" and unquestionably beneficial to the environment. The installation of rooftop solar system has been initiated by VSSES and it was completed in only a month and a half without any safety breach. The system size is 578kWp and generates more than 800,000kWh annually. This system reduces more than 738 tons of CO2 emissions annually which is equivalent to planting 8,910 new trees.
Mr. Anson Wong, Production Manager of Green Cross, shared that: "VSSES has done an excellent job in executing the project and well managed the project timeline with the highest safety standards put in place during the entire project. VSSES team has decent knowledge of the system and is always ready to go above and beyond the call of duty to provide a better service to Green Cross Vietnam."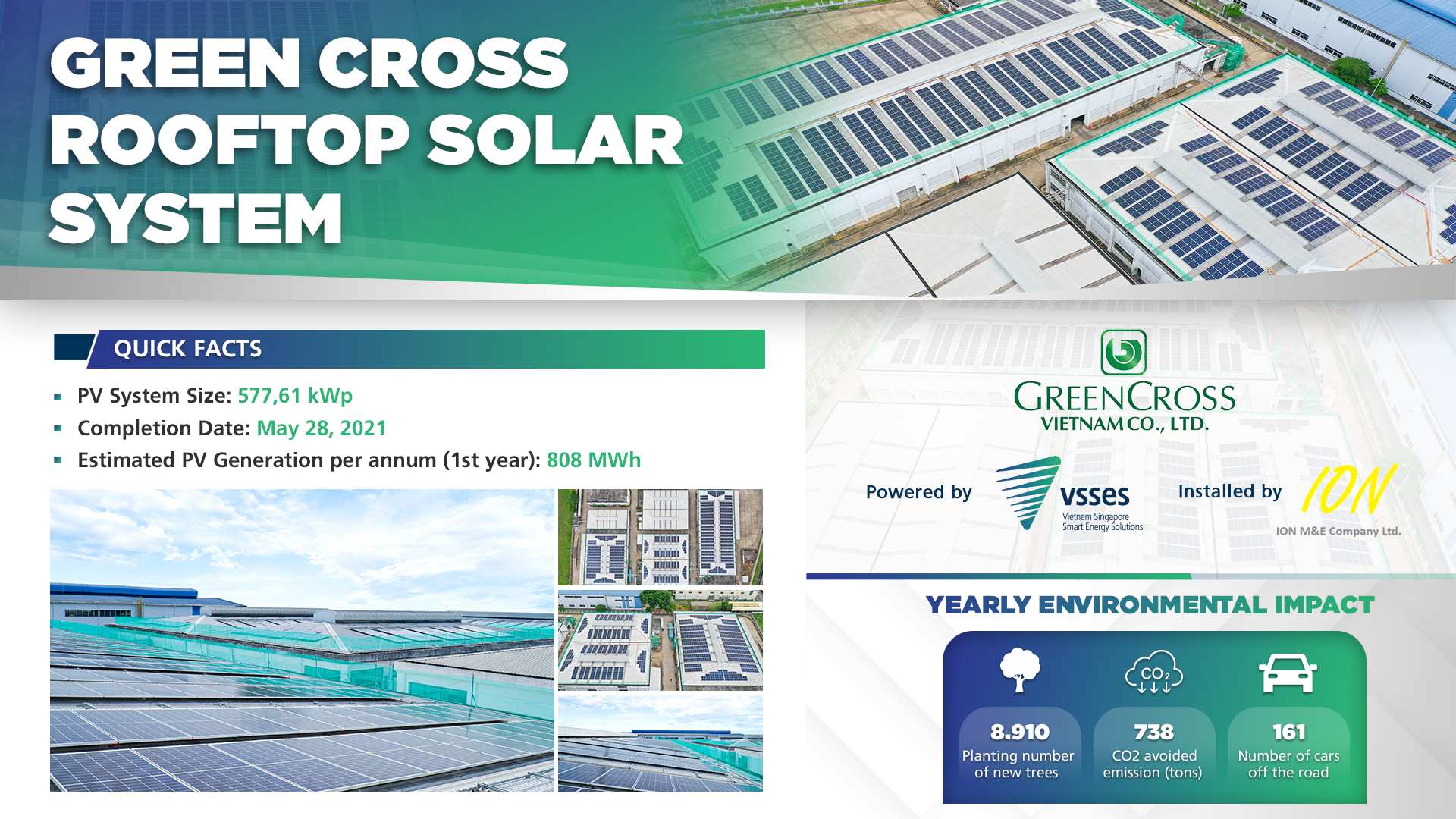 ————————————————
Contact VSSES now to have a FREE ROOFTOP SOLAR system on your unused roof!
☎️ 0274 730 7999
? contactus@vsses.com