Dunlopillo Vietnam saves electricity cost with VSSES's Rooftop Solar System
In November 2021, Vietnam – Singapore Smart Energy Solutions (VSSES) successfully commissioned the Rooftop Solar System at Dunlopillo Vietnam through the Zero Capex Model. The system generates more than 800,000 kWh per year and reduces CO2 emissions by more than 700,000 kg. Dunlopillo Vietnam is a 100% foreign-owned company, part of Pikolin Group, Spain. Pikolin […]
In November 2021, Vietnam – Singapore Smart Energy Solutions (VSSES) successfully commissioned the Rooftop Solar System at Dunlopillo Vietnam through the Zero Capex Model. The system generates more than 800,000 kWh per year and reduces CO2 emissions by more than 700,000 kg.
Dunlopillo Vietnam is a 100% foreign-owned company, part of Pikolin Group, Spain. Pikolin Group is the second largest European group in the bedding sector, leaders in Spain, Portugal and France, and has eight manufacturing plants in Europe, Asia and South America.
The year 2021 will undoubtedly be a difficult one for everyone. The fourth wave of Covid-19 has caused several firms to deviate significantly in their response to the epidemic. With the "3 on-site" regulation, businesses had to adjust to the "3 green" policy, which increased operational expenses. Dunlopillo Vietnam wasn't any different. To ensure the safety of their employees and the smooth functioning of their business, their operational expenditures have been increased. There was no doubt that Dunlopillo Vietnam has to overcome obstacles and setbacks.
The top mattress provider in Vietnam, on the other hand, remained stable. Dunlopillo Vietnam has maintained their production plans as well as their energy budget reducing strategy by using solar energy from the rooftop solar system thanks to their excellent management. Dunlopillo Vietnam has outperformed the Covid-19 wave in their sales accomplishment, with no late deliveries or production flaws. At the same time, they've worked with VSSES to use the Zero Capex Model to install rooftop solar at Dunlopillo Vietnam's sites.  VSSES installed and completed this rooftop solar system at Dunlopillo Vietnam in June 2021; however, due to tight Covid-19 rules, the installation was not successfully commissioned until November 2021.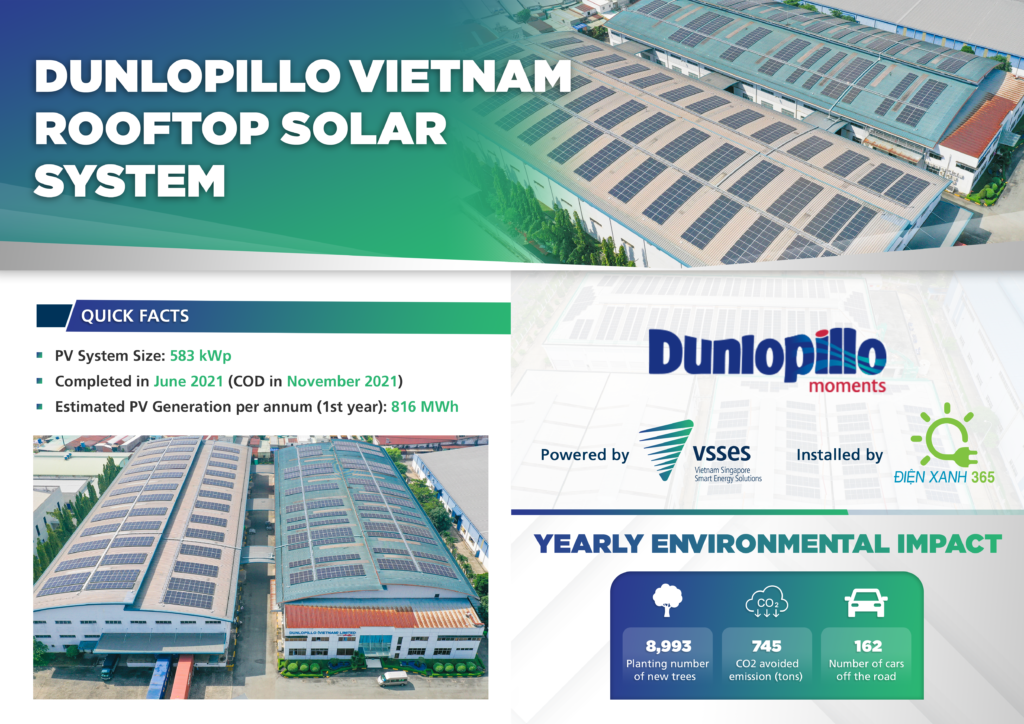 "Since the beginning of the project, VSSES has done an exceptional job consulting Dunlopillo Vietnam on the sustainability topic and how the installation of the Rooftop Solar PV System shall help Dunlopillo Vietnam make a significant cut on the energy budget while enjoying using renewable solar energy with peace of mind," said the spokesperson of Dunlopillo Vietnam. "VSSES has given Dunlopillo Vietnam with a first-rate service and a cutting-edge technology thanks to their experience and knowledge."
Dunlopillo Vietnam now enjoys from VSSES' Rooftop Solar System, which provides not only cheaper but also clean electricity. Dunlopillo Vietnam products are now officially "created by the Sun" and ready to assist millions of consumers across the world in ensuring that their beds are their own personal skies for each special time.
————————————————
Contact VSSES now to have a FREE ROOFTOP SOLAR system on your unused roof!
☎️ 0274 730 7999
? contactus@vsses.com